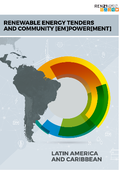 Renewable energy tenders have been a particularly popular mechanism in Latin America and the Caribbean (LAC). A new REN 21 report,
Renewable Energy Tenders and Community [Em]power[ment]
, looks at the interface between the tendering process and the role that communities can play in renewable energy uptake in the LAC region. It also proposes a mechanism to promote community-driven renewable energy projects in the context of renewable energy tenders.