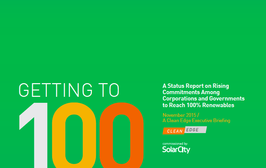 A growing number of companies and governments are aim­ing to achieve renewable electricity targets of 50%, 75%, or even 100%. For example, in 2015 alone, California established a 50% by 2030 renewable portfolio standard (RPS); Vermont a 75% RPS by 2032; and Hawaii a 100% RPS by 2045. Dozens of corporations are already procuring 100% of their electrons from renewables for their U.S. operations, including Apple, Intel, and Kohl's. A new report,
Getting to 100,
published by CleanEdge,
assesses and analyzes the full suite of options available for aggressively expanding corporate and government use of clean energy, including onsite renewables, community solar, utility-scale renewables, renewable energy credits (RECs), green energy tariffs, and third party clean-energy offerings.