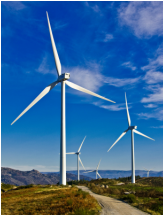 Renewable power, led by wind and solar, attracted twice as much investment in 2015 as fossil fuels, according to data from
Bloomberg New Energy Finance
.
Factors driving this trend include the following.
1. Wealthy countries are phasing out coal, China's demand for coal is starting to flatten, and the rate of growth for coal-fired power in other developing countries is slowing.
2. Wind and solar costs have fallen dramatically due to economies of scale. Since 2000, the amount of global electricity produced by solar power has doubled seven times over, and wind power has doubled four times. Wind and solar now compete with fossil energy on an unsubsidized basis in many parts of the world.
3. Wind and solar are technologies, not fuels. Thus, efficiency increases and prices fall over time. The price of batteries to store wind and solar power and smooth out the effects of intermittency is also falling.
4. Investment in oil and gas infrastructure is falling as prices for these commodities have tanked. While falling prices for fossil fuels are primarily due to oversupply, the transition to renewable power generation and the uptake of electric vehicles are contributing to a long-term shift by reducing demand for fossil fuels.